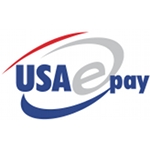 USA ePay is an online merchant services account. This service provides both online and offline businesses with the ability to accept credit card payments from customers over the Internet. Thus, USA ePay is a payment gateway–a service that acts as a middle agent between the customer and the merchant. It facilitates credit card payments from Visa, Mastercard, Discover and all other major credit card platforms.
Unlike many such services, USA ePay is completely family-owned. It has been owned and run by the Goretzky brothers since 1998. It currently bases its operations in Los Angeles, CA, although it has recently opened an office in Albany, NY as well.
What Businesses Use USA ePay?
Almost any business that takes credit card payments can use USA ePay's services. E-commerce payment gateways like USA ePay work primarily with online businesses so that they can accept credit card payments over their websites. However, USA ePay also provides e-commerce services to physical stores. If your business would like to accept credit card payments using wireless terminals or computers, USA ePay is for you. Companies that purchase merchant services and resell them to businesses may also be interested in USA ePay, as this company offers reseller services.
Customer Service
USA ePay allows customers to easily report technical problems and ask questions over its website. Customers can open a support ticket online, read owners' manuals for their software and hardware or read a specialized Wiki site to get answers to their questions. If you'd rather talk to a live person, USA ePay offers customer support by telephone. You can find links to the telephone numbers you need on their website as well. The only time you'll need to contact someone outside of USA ePay for help is if you have a problem with your merchant account such as not being able to accept credit card payments at all. USA ePay does not provide merchant account services; it's only the gateway. Contact your bank if you have problems of this nature.

Price/Fee Structure
The prices of USA ePay services depend on where you are located and which reseller you work with. To sign up with an account through USA ePay, you must purchase one through one of their resellers. Resellers charge varying fees for their services. If you are interested in becoming a reseller with USA ePay, you can sign up through their website. USA ePay does not charge resellers for this service.
Unique Features of USA ePay
USA ePay offers virtual terminals; instead of swiping a card directly at a credit card machine, retailers use a computer or wireless device to capture credit card information and make transactions. If a company uses USA ePay's services, its customers will be able to pay using applications on their smartphones, since these applications require wireless terminals to work correctly. USA ePay also uses the most up-to-date technology to keep credit card payments secure. Finally, webmasters may be interested in USA ePay's e-billing option, in which they can post payment forms directly to their websites so that customers can input credit card information to make purchases.
Post Review on Usa Epay Write Feedback Leave Complaints Ratings for Usa Epay
Stay or Switch from Usa Epay To Another Credit Cards Service?
Share your comments about Usa Epay, complaints, honest opinions, service levels from merchant account Usa Epay. BBB Reviews for Usa Epay. Lookup information on Usa Epay. Is Usa Epay legit or a scam? Find an alternative solution to Usa Epay. Have you been Shutoff, Closed, Denied, Cancelled by Usa Epay? Leave a review for Usa Epay? Post your experiences with Usa Epay on Sales Practices, Length of Contract, Hidden Fees, Early Termination Fees, Problems with Usa Epay, Chargebacks, Usa Epay Annual Fees, Transaction Rates, Contracts, Contacts, Support, Customer Service for Usa Epay. Credit Card Processor Providers that have better rates then Usa Epay. Does Usa Epay Support High Risk merchants? Post your customer ratings and review of Usa Epay below.
Best Merchant Account Credit Card Services in 2022
| Rank | Service | Rating | More Info |
| --- | --- | --- | --- |
| | | | |
| | | | |
| | | | |
| | | | |
| | | | |