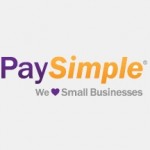 PaySimple began when a pair of business partners set out to create a way that would help landlords collect rents faster and easier than ever before. The partners ran an advertising service for property owners and discovered that collecting payments presented one of the largest problems property owners faced. Now, PaySimple offers payment services to various small businesses and provides automated billing to other organizations.
Recognized as an award-winning product, PaySimple offers important financial services that help businesses get paid faster. E-check processing makes getting paid via ACH payments easy. Business owners can also schedule automatic billing schedules that allow tenants and customers to pay with credit cards. Cloud-based customer management software makes the accessing of billing and payment histories easy. A special feature called Data Entry Saver integrates PaySimple with business accounting programs.
What Businesses Use PaySimple?
PaySimple works for small businesses and property owners who need to automate billing and accept payments by credit card and by electronic checks. Businesses that use PaySimple include fitness gyms, apparel stores, web hosting companies and rental property managers.
Customer Service
Customers can access a customer support portal where they can open support tickets online. Merchants can also log on to check the status of ongoing trouble tickets, and they can add extra information if necessary.
Price/Fee Structure
PaySimple offers two services. The first, InvoiceSimply, costs $11 per month and allows merchants to create and distribute electronic invoices automatically. This service interacts with other software programs and services an unlimited number of customers.
The other service, PaySimplePro, costs $34.95 per month and allows businesses to accept credit cards and e-checks. Each payment processed costs an additional fee. Visa, MasterCard and Discover payments cost $.29 + 2.39 percent of the transaction total to process. American Express payments cost $.15 +2.89 percent of the transaction total to process. Every e-check payment processed by PaySimple costs you $.55.
Unique Features of PaySimple
Unlike other payment processing services, PaySimple provides customer management software that helps businesses keep track of their payments and invoices. The software also allows business owners to configure recurring bills. Automatic receipt distribution, credit card expiration alerts and failed payment notices proactively keep payments coming in on time.
Post Review on Paysimple Write Feedback Leave Complaints Ratings for Paysimple
Stay or Switch from Paysimple To Another Credit Cards Service?
Share your comments about Paysimple, complaints, honest opinions, service levels from merchant account Paysimple. BBB Reviews for Paysimple. Lookup information on Paysimple. Is Paysimple legit or a scam? Find an alternative solution to Paysimple. Have you been Shutoff, Closed, Denied, Cancelled by Paysimple? Leave a review for Paysimple? Post your experiences with Paysimple on Sales Practices, Length of Contract, Hidden Fees, Early Termination Fees, Problems with Paysimple, Chargebacks, Paysimple Annual Fees, Transaction Rates, Contracts, Contacts, Support, Customer Service for Paysimple. Credit Card Processor Providers that have better rates then Paysimple. Does Paysimple Support High Risk merchants? Post your customer ratings and review of Paysimple below.