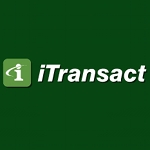 iTransact is a payment-acceptance company that provides merchant accounts and related services and equipment to businesses across the U.S. The company was founded in 1994 and since then has been able to provide excellence in service and quality products for almost two decades. iTransact's services allow both Internet based businesses and brick-and-mortar business to accept payments via an array of different and popular methods, including credit and debit cards, gift cards and electronic checks. Because of the length of time the company has been in the market and their partnership to many credit unions and other trade associations, iTransact has some of the most competitive rates in the market. Integrating a payment gateway, merchant services or new physical terminals is easy and effective thanks to the great service and support that the company has to offer.
What Businesses Use iTransact?
Whether you own an Internet Based Business or a small coffee shop in the local mall, iTransact can provide you with the merchant services you need. They can provide you with the equipment needed to start accepting payments right away, or if you already have equipment from another service provider, they will most likely be able to provide better rates than the ones you currently have and integrate them to the terminal or payment gateway you already have.
Customer Service
Excellence in customer service and exceptional products is what iTransact is all about. It is the only reason they have been able to remain a top competitor in this business for almost twenty years. No matter the type of business you have, whether is big or small, they provide everyone with the same prompt and caring service that they have come to be known for.
Price/Fee Structure
The great thing about this company is that they have no hidden fees, which make their rates easy and simple to compare. You will be able to clearly see what other companies charge and they don't. They also offer both the payment gateway and the merchant account, that way you will be saving money by eliminating the middleman.
Unique Features of iTransact
The company's rates are some of the lowest in the industry. They are able to save you money on equipment and they also have a proprietary Internet payment gateway that will allow you to process online payments without any extra costs. iTransact is also able to accept electronic checks and/or check conversion with check guarantee.
Post Review on Itransact Write Feedback Leave Complaints Ratings for Itransact
Stay or Switch from Itransact To Another Credit Cards Service?
Share your comments about Itransact, complaints, honest opinions, service levels from merchant account Itransact. BBB Reviews for Itransact. Lookup information on Itransact. Is Itransact legit or a scam? Find an alternative solution to Itransact. Have you been Shutoff, Closed, Denied, Cancelled by Itransact? Leave a review for Itransact? Post your experiences with Itransact on Sales Practices, Length of Contract, Hidden Fees, Early Termination Fees, Problems with Itransact, Chargebacks, Itransact Annual Fees, Transaction Rates, Contracts, Contacts, Support, Customer Service for Itransact. Credit Card Processor Providers that have better rates then Itransact. Does Itransact Support High Risk merchants? Post your customer ratings and review of Itransact below.