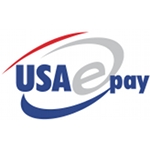 USA ePay is an online merchant services account. This service provides both online and offline businesses with the ability to accept credit card payments from customers over the Internet. Thus, USA ePay is a payment gateway–a service that acts as a middle agent between the customer and the merchant. It facilitates credit card payments from Visa, Mastercard, Discover and all other major credit card platforms.
Unlike many such services, USA ePay is completely family-owned. It has been owned and run by the Goretzky brothers since 1998. It currently bases its operations in Los Angeles, CA, although it has recently opened an office in Albany, NY as well.
What Businesses Use USA ePay?
Almost any business that takes credit card payments can use USA ePay's services. E-commerce payment gateways like USA ePay work primarily with online businesses so that they can accept credit card payments over their websites. However, USA ePay also provides e-commerce services to physical stores. If your business would like to accept credit card payments using wireless terminals or computers, USA ePay is for you. Companies that purchase merchant services and resell them to businesses may also be interested in USA ePay, as this company offers reseller services.
Customer Service
USA ePay allows (more…)