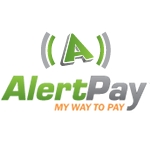 AlertPay is a safe and secure payment processor that allows buyers and sellers to send and receive payments around the world. Signing up for a free AlertPay account is a simple process managed on the company's website. As long as someone has an e-mail address, that person can signup for an AlertPay account to buy, sell and send money to other AlertPay users. Merchants who want to accept credit cards can create special payment buttons that give their customer credit card payment options. When a buyer completes a purchase, AlertPay transfers the money from the cardholder's account and places it into the seller's AlertPay account. When an AlertPay customer has money in his or her account, that customer can withdraw it to their bank account or request a check.AlertPay is now Payza, click here for more info
What Businesses Use AlertPay?
AlertPay is mainly for online businesses that sell goods and services via the Web. Businesses with virtual workforces can also use AlertPay to distribute payments for provided services.
Businesses that sign up to receive credit card payments must verify themselves with AlertPay, complete a website review and complete a phone verification process after their first transaction.
Customer Service
Support for AlertPay is mainly handled via the company's online help desk support system. Customers can browse through the self-service FAQ answers and then open an online support ticket if they need more help. The company does post its phone number on its website, so customers who prefer to speak with someone can get the type of support they prefer.
Price/Fee Structure
AlertPay does not charge monthly fees or require contracts from sellers who use its services. Credit card transactions cost 4.9% of the transaction amount plus a 25-cent transaction fee. This places funds into the seller's account from their customers' credit cards. A separate 2.5% fee plus a 25-cent transaction charge is assessed sellers when they receive funds from an AlertPay-only sale.
Sellers can withdraw funds from their AlertPay account for free if they request a check. Bank transfers cost $.50 and wire transfers cost $15.
Unique Features of AlertPay
AlertPay is different from most payment processors because of its easy enrolment process. It requires no contract and only costs money when a seller makes a sale.
Post Review on Alertpay Write Feedback Leave Complaints Ratings for Alertpay
Stay or Switch from Alertpay To Another Credit Cards Service?
Share your comments about Alertpay, complaints, honest opinions, service levels from merchant account Alertpay. BBB Reviews for Alertpay. Lookup information on Alertpay. Is Alertpay legit or a scam? Find an alternative solution to Alertpay. Have you been Shutoff, Closed, Denied, Cancelled by Alertpay? Leave a review for Alertpay? Post your experiences with Alertpay on Sales Practices, Length of Contract, Hidden Fees, Early Termination Fees, Problems with Alertpay, Chargebacks, Alertpay Annual Fees, Transaction Rates, Contracts, Contacts, Support, Customer Service for Alertpay. Credit Card Processor Providers that have better rates then Alertpay. Does Alertpay Support High Risk merchants? Post your customer ratings and review of Alertpay below