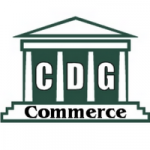 CDGCommerce, provides merchant services for Internet, storefront and wireless card-based transactions. The company issues its business clients merchant accounts that receive funds from various customer payment methods. CDGCommerce supports many different types of sales, including mail orders and telephone orders. As a payment processor, this company covers every segment of the industry. A 5-minute setup process helps merchants quickly get started with accepting credit card payments. Most businesses instantly see a jump in sales because they can accept the payment forms that customers want to use. The payment processor moves money from customer credit cards, debit cards and e-checks in to Internet merchant accounts assigned to traditional and online sellers. After settlement, businesses can have funds transferred into their business checking accounts for normal use.
What Businesses Use CDGCommerce?
This company also provides a free payment gateway for Internet merchants who have a US bank account. The company offers this service for free without passing the cost onto customers in the form of increased fees elsewhere in their program. CDGCommerce also offers payment processing for brick-and-mortar retailers, catalog and telephone sellers and mobile professionals.
Customer Service
CDGCommerce provides support via live chat, telephone or email. The company also provides an online contact form merchants can use to open a trouble ticket or ask a question. The company also offers support portals that provide targeted help for customers based on their service plan. A portal for merchants, agents, and CDGstores helps merchants easily find help at any time of the day.
Price/Fee Structure
Internet transactions cost 2.25 percent to process plus a 30-cent transaction fee for qualified sales. Non-qualified sales incur a surcharge of 1.5 percent plus an additional 10-cent transaction fee. A $10 monthly merchant fee also applies. Store-based transactions cost 1.75 percent to process plus a 25-cent transaction fee for qualified sales. Non-qualified transactions incur an extra 1.25-percent charge plus an additional 10-cent fee. CDGCommerce adds another fee for every Amex or JCB transaction.
Unique Features of CDGCommerce
CDGCommerce offers a free 14-day test drive service that helps merchants experience the services offered by the company before making a commitment. This opportunity lets merchants decide whether or not CDGCommerce works for them.
Post Review on Cdgcommerce Write Feedback Leave Complaints Ratings for Cdgcommerce
Stay or Switch from Cdgcommerce To Another Credit Cards Service?
Share your comments about Cdgcommerce, complaints, honest opinions, service levels from merchant account Cdgcommerce. BBB Reviews for Cdgcommerce. Lookup information on Cdgcommerce. Is Cdgcommerce legit or a scam? Find an alternative solution to Cdgcommerce. Have you been Shutoff, Closed, Denied, Cancelled by Cdgcommerce? Leave a review for Cdgcommerce? Post your experiences with Cdgcommerce on Sales Practices, Length of Contract, Hidden Fees, Early Termination Fees, Problems with Cdgcommerce, Chargebacks, Cdgcommerce Annual Fees, Transaction Rates, Contracts, Contacts, Support, Customer Service for Cdgcommerce. Credit Card Processor Providers that have better rates then Cdgcommerce. Does Cdgcommerce Support High Risk merchants? Post your customer ratings and review of Cdgcommerce below.