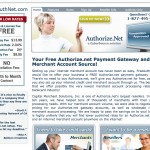 Business owners who have free merchant accounts with FreeAuthnet.com will also receive the services of Authorize.net for no charge. By setting up credit card processing with FreeAuthnet.com, these business owners automatically receive the payment gateway, Authorize.net. Because FreeAuthnet.com has so many customers, this fact has made it possible for them to give their clients great deals for the Authorize.net gateway accounts; they can also give merchants some of the best pricing for their credit card processing accounts. FreeAuthnet.com is doubtful that merchants will be able to find another company on the Internet that can offer them credit card processing as well as an Authorize.net account for the price they can receive it from this company. The bonus is that Authorize.net leads the rest in the industry.
What Businesses Use FreeAuthNet?
Any business that would like to take payments by credit card need this service. Those who have a website from which they would like to take credit cards need this service. Business owners who have retail stores and would like to accept credit card payments can do so with the FreeAuthnet.com service.
Businesses typically using this service are of small to medium size, and the ones that benefit greatly are:
Home-based businesses
Retail stores
Restaurants
Establishments that perform services, such as car repair shops
All types of Internet businesses

Customer Service
Working with customer service from FreeAuthnet.com has been highly satisfying for the clients, and contacting them is very easy. Business owners may submit a question online right from the website, or they may contact someone in one of four ways:
1. By mail
2. Telephone
3. Fax
4. Email
Price/Fee Structure
FreeAuthnet.com offers its services for much less than they can receive from other vendors. Others will charge a setup fee, cancellation fee, annual fee, license fee, application fee and for the Check by Phone software. FreeAuthnet.com does not charge any of these above fees. The fees that they do charge are very low. For example, the transaction fee is $.24 and the statement fee is lower than the average at $8.95. The Internet Gateway fee is $13.99, when the average rate is between $20 and $35.
Unique Features of MerchantPlus
It's important for a merchant's customers' information be transmitted safely and securely, and Authorize.net monitors these transactions to ensure that everything is proceeding as it should be. Any type of business would be able to integrate its systems with the Authorize.net system, because these services can be customized to meet the specific needs of every business.
Post Review on Freeauthnet Write Feedback Leave Complaints Ratings for Freeauthnet
Stay or Switch from Freeauthnet To Another Credit Cards Service?
Share your comments about Freeauthnet, complaints, honest opinions, service levels from merchant account Freeauthnet. BBB Reviews for Freeauthnet. Lookup information on Freeauthnet. Is Freeauthnet legit or a scam? Find an alternative solution to Freeauthnet. Have you been Shutoff, Closed, Denied, Cancelled by Freeauthnet? Leave a review for Freeauthnet? Post your experiences with Freeauthnet on Sales Practices, Length of Contract, Hidden Fees, Early Termination Fees, Problems with Freeauthnet, Chargebacks, Freeauthnet Annual Fees, Transaction Rates, Contracts, Contacts, Support, Customer Service for Freeauthnet. Credit Card Processor Providers that have better rates then Freeauthnet. Does Freeauthnet Support High Risk merchants? Post your customer ratings and review of Freeauthnet below.