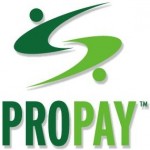 ProPay lets you accept credit card payments with a low processing fee. This PCI DSS compliant service offers many ways for customers to pay including mobile payments and online payments. It's easy to get started with ProPay with no credit check and a free online signup. There are no hidden fees with this service. You pay an annual fee plus a low per transaction fee plus a small percentage of the transaction. You will receive a toll-free number to call with any questions that arise while using the service. Your customers enjoy a safe, secure transaction so their personal data is kept confidential, making ProPay a great choice for businesses to accept credit cards online or in person.
What Businesses Use ProPay?
ProPay offers solutions for both online businesses and businesses with a storefront. With one annual fee, your business can accept payments via email, telephone, store cards, email invoices, a smartphone app, a JAK mobile card reader or by credit card terminal. All plans let you accept Visa, MasterCard, American Express and Discover debit and credit cards. Merchants can have funds deposited into their bank account or select a MasterCard debit card for easier access.
Price/Fee Structure
The annual fee for ProPay starts at $49.95 for the Premium Plus plan. This plan has the lowest annual fee, but has slightly higher transaction fees. This plan is best for businesses that do not have a lot of credit or debit card transactions in a year. For higher volume businesses, the Platinum plan is $79.99 per year. It has lower rates per transaction. A small fee of $0.20 to $0.30 per transaction applies depending on the plan and the type of card used by the customer. ProPay also charges from 1.99% to 3.39% of each transaction depending on the plan and type of card.
There are no monthly minimums on any plan, nor are there minimums for each transaction. All plans provide a yearly statement, which makes it easier to keep track of credit and debit card sales for the business. Other fees may apply to transfer money to a bank account.
Unique Features of ProPay
ProPay offers merchants a toll-free number for help and fraud prevention. Merchants can call the fraud hotline for questions or concerns regarding a specific transaction or how to prevent fraud or chargebacks. Calls are answered Monday to Friday during normal business hours.
For other questions, merchants can call a toll-free number, email or fill out a short form online. Users can contact the help line for questions regarding the service, questions about different plans or help with a specific transaction.
Customer Service
The ProPay customer service team is available through a toll-free number for all US customers, and of course through a contact form on their website. The company is also active on Twitter and Facebook, giving you the opportunity to interact with them through social media.
Post Review on Propay Write Feedback Leave Complaints Ratings for Propay
Stay or Switch from Propay To Another Credit Cards Service?
Share your comments about Propay, complaints, honest opinions, service levels from merchant account Propay. BBB Reviews for Propay. Lookup information on Propay. Is Propay legit or a scam? Find an alternative solution to Propay. Have you been Shutoff, Closed, Denied, Cancelled by Propay? Leave a review for Propay? Post your experiences with Propay on Sales Practices, Length of Contract, Hidden Fees, Early Termination Fees, Problems with Propay, Chargebacks, Propay Annual Fees, Transaction Rates, Contracts, Contacts, Support, Customer Service for Propay. Credit Card Processor Providers that have better rates then Propay. Does Propay Support High Risk merchants? Post your customer ratings and review of Propay below.