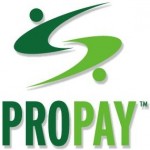 ProPay lets you accept credit card payments with a low processing fee. This PCI DSS compliant service offers many ways for customers to pay including mobile payments and online payments. It's easy to get started with ProPay with no credit check and a free online signup. There are no hidden fees with this service. You pay an annual fee plus a low per transaction fee plus a small percentage of the transaction. You will receive a toll-free number to call with any questions that arise while using the service. Your customers enjoy a safe, secure transaction so their personal data is kept confidential, making ProPay a great choice for businesses to accept credit cards online or in person.
What Businesses Use ProPay?
ProPay offers solutions for both online businesses and businesses with a storefront. With one annual fee, your business can accept payments via email, telephone, store cards, email invoices, a smartphone app, a JAK mobile card reader or by credit card terminal. All plans let you accept Visa, MasterCard, American Express and Discover debit and credit cards. Merchants can have funds deposited into their bank account or select a MasterCard debit card for easier access.
Price/Fee Structure
The annual fee (more…)