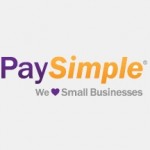 PaySimple began when a pair of business partners set out to create a way that would help landlords collect rents faster and easier than ever before. The partners ran an advertising service for property owners and discovered that collecting payments presented one of the largest problems property owners faced. Now, PaySimple offers payment services to various small businesses and provides automated billing to other organizations.
Recognized as an award-winning product, PaySimple offers important financial services that help businesses get paid faster. E-check processing makes getting paid via ACH payments easy. Business owners can also schedule automatic billing schedules that allow tenants and customers to pay with credit cards. Cloud-based customer management software makes the accessing of billing and payment histories easy. A special feature called Data Entry Saver integrates PaySimple with business accounting programs.
What Businesses Use PaySimple?
PaySimple works for small businesses and property owners who need to automate billing and accept payments by credit card and by electronic checks. Businesses that use PaySimple include fitness gyms, apparel stores, web hosting companies and rental property managers.
Customer Service
Customers can access a customer support portal where they can open support tickets online. Merchants can also log on to check the status of ongoing (more…)