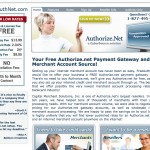 Business owners who have free merchant accounts with FreeAuthnet.com will also receive the services of Authorize.net for no charge. By setting up credit card processing with FreeAuthnet.com, these business owners automatically receive the payment gateway, Authorize.net. Because FreeAuthnet.com has so many customers, this fact has made it possible for them to give their clients great deals for the Authorize.net gateway accounts; they can also give merchants some of the best pricing for their credit card processing accounts. FreeAuthnet.com is doubtful that merchants will be able to find another company on the Internet that can offer them credit card processing as well as an Authorize.net account for the price they can receive it from this company. The bonus is that Authorize.net leads the rest in the industry.
What Businesses Use FreeAuthNet?
Any business that would like to take payments by credit card need this service. Those who have a website from which they would like to take credit cards need this service. Business owners who have retail stores and would like to accept credit card payments can do so with the FreeAuthnet.com service.
Businesses typically using this service are of small to medium size, and the ones that benefit greatly (more…)