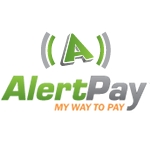 AlertPay is a safe and secure payment processor that allows buyers and sellers to send and receive payments around the world. Signing up for a free AlertPay account is a simple process managed on the company's website. As long as someone has an e-mail address, that person can signup for an AlertPay account to buy, sell and send money to other AlertPay users. Merchants who want to accept credit cards can create special payment buttons that give their customer credit card payment options. When a buyer completes a purchase, AlertPay transfers the money from the cardholder's account and places it into the seller's AlertPay account. When an AlertPay customer has money in his or her account, that customer can withdraw it to their bank account or request a check.AlertPay is now Payza, click here for more info
What Businesses Use AlertPay?
AlertPay is mainly for online businesses that sell goods and services via the Web. Businesses with virtual workforces can also use AlertPay to distribute payments for provided services.
Businesses that sign up to receive credit card payments must verify themselves with AlertPay, complete a website review and complete a phone verification process after their first transaction.
Customer
(more…)